What can BARS do for me?
BARS is designed to be the lightest, most compact and user friendly data acquisition system on the market, the software is designed to fit on the screen of any PC.
BARS will replace a digital tape recorder (DAT) or mini disk recorder and give: -
Unbroken recording to RAM disk in harsh vibration environments
Recording capacity from 8 to 64Gig Bytes in none volatile memory
On screen display of time histories and spectra
Automatic storage and naming of data files
Simple start an stop of recording by pressing button connected to trigger input
Trigger acquisition on input channel levels
Data files output in a large number of standard formats including:-
ASAM, UFF, SDF. WAV, MATLAB ….

Applications modules available :-
Calculate Hand ARM Vibration levels – CHARM
Hammer input for Modal and point impedance testing
Run and order analysis
acoustic Intensity mapping
sound power calculation
RT60 decay time calculation
Articulation Index calculation
…
Key Features
• 4+ measurement channels + tacho + trigger + output
• 24 Bit ADC on all in/outputs + IEPE power
• Auto calibration for maintained best accuracy
• Touch screen and full QWERTY keyboard
• RSS feed updates to ensure the latest software level
• Total system weight including Micro PC = 1kg
• Military grade leather case and shoulder strap
• 3 year hardware warrantee and software upgrades
• Online software support
• Wi-Fi and blue tooth built in
• Docking station with fire wire, 4xUSBII, external monitor out.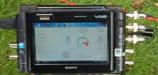 For more information view this brochure